Over the last couple of years, I have shown CAVE QUAKE II to a lot of people. If you are ever in this area (central Illinois) and you want a demo, let me know.

Here are a few of the people that have seen it:

Mike Kulas and Volition Inc. - the makers of Descent: FreeSpace.

Ed Boon - creator of Mortal Kombat.

Kurt Russell and Goldie Hawn saw it!

Tomlinson Holman - mr. THX .

Steven Lisberger - director of Tron.

Mike Abrash - developer of Quake!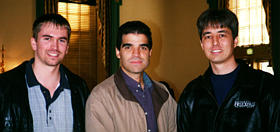 Me, Ed Boon, and Mike Kulas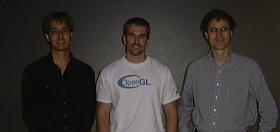 Mike Kulas, me, and Mike Abrash