Services
Services and Custom Solutions
In addition to our
products
, we are also available for custom hardware and software development for customers with special needs. Many of our current products started as a custom configuration for a particular customer.
Want to know more? Contact Us.
Custom Hardware Solutions
Visbox, Inc. specializes in custom immersive and high resolution display solutions. We are able to provide fully custom hardware based on the following three step process: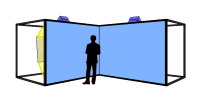 Explore/Prototype
Using our in-house design tools, we can rapidly prototype possible configurations for you based on your requirements and constraints.
COST: FREE!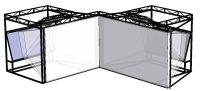 Design/Engineer
Once you place an order with us for a particular configuration, we will fully design your system using commercial CAD software.
COST: initial payment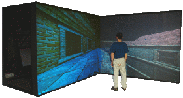 Test/Install
After the design is finalized, we will build and test the system at our facility. We will then install the system at your site.
COST: final payment
Example Scenario
The image on the right shows an example scenario. A custom 3-screen immersive VR system (CAVE) is rapidly prototyped to fit in a customer's space. This quick virtual mockup ensures that the system footprint and the lightpaths from the projectors will work within the designated room. After purchase, the details of the design are fleshed out and the system is manufactured and delivered.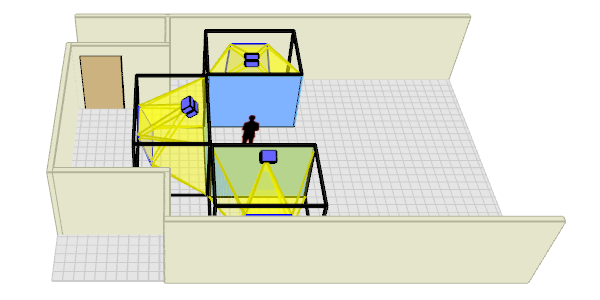 Custom Hardware Options
When deciding on a configuration for a custom display, there are many considerations. Aside from budget and space constraints, the sections below outline some of the major options for a custom display. An important decision is whether or not the display will support stereo 3D viewing. Each channel/tile in the final system can be either a flat panel, a projector, a VisDuo projector-pair, or a more expensive active stereo capable projector:

Flat panel
with minimal bezels
LCD, plasma
WQXGA (2560×1600)
UHD (3840×2160)
8K (7680×4320)

Projector
Single Projector
LCOS, LCD, DLP
WQXGA (2560×1600)
4K (4096×2160)
4K UHD (3840×2400)

Projector Pair
Passive Stereo Projector Pair
LCOS, LCD, DLP
WQXGA (2560×1600)
4K (4096×2160)
4K UHD (3840×2400)

Stereo Projector
Active Stereo Capable
DLP, 3 chip DLP
WQXGA (2560×1600)
4K (4096×2160)
4K UHD (3840×2400)
Resolutions
Another important decision is to choose the number of channels based on your resolution needs. Having multiple channels multiplies the resolution for very high resolution applications. The number of channels can be anywhere from 1 to 50+.
An alternative to mutliple channels per screen is to use 4K projectors (4096×2160). A single 4K channel (mono or stereo) has very high resolution with a perfectly seamless and uniform picture.
See the table below. Very high resolution configurations exceeding 20 Mpixels are colored green.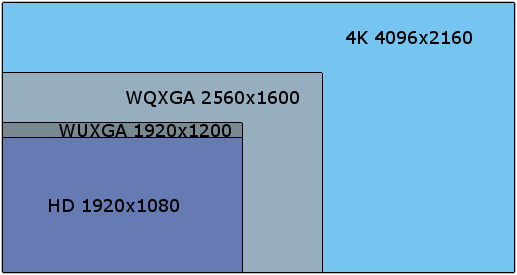 Number of Channels and Resolution Examples*
Single Channel

Multiple Channels WQXGA

Multiple Channels 4K

WQ
2560×1600
~4.1 Mpixels
4x
5120×3200
~16.4 Mpixels
4x
8192×4320
~35.4 Mpixels
4K
4096×2160
~8.9 Mpixels
9x
7680×4800
~36.9 Mpixels
9x
12288×6480
~79.6 Mpixels
8K
7680×4320
~33.2 Mpixels
16x
10240×6400
~65.5 Mpixels
16x
16384×8640
~141.6 Mpixels
*This table shows a few examples. Many more configurations are possible.
Structures
Aside from the number and type of channels, a structure needs to be chosen. Listed below are 4 major categories of structures. These include everything from the simplest single screen displays all the way to multi-screen, multi-channel fully immersive 3D display systems (CAVEs).
Generally speaking, larger screens and multi-screen systems increase user immersion.
Single Screen Loosely Coupled
Single channel
Rear or front projection
Direct throw
Floor stand or ceiling mount
Example Products:
VisDuo (3D stereo)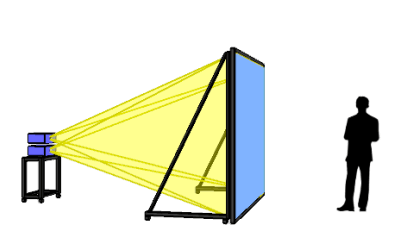 Rear-projected VisDuo system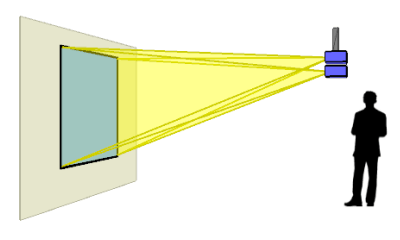 Front-projected VisDuo system
Single Screen Structure or Enclosure
Single or multi-channel
Tightly integrated structure
Use of internal mirrors to reduce depth (optional)
Light block (optional)
Example Products:
VisCube C1 (3D stereo)
VisWall (multi-channel)
3D Stereo VisWall (multi-channel 3D)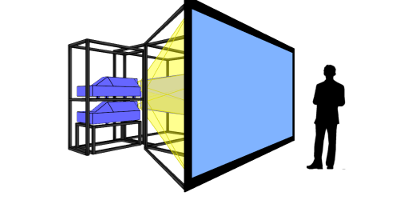 3D VisWall-4K-SRX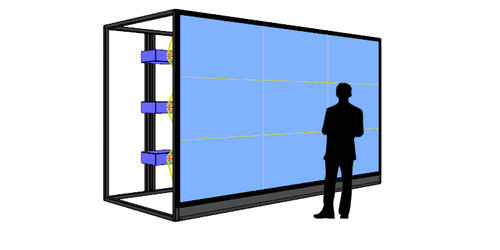 VisWall-9HD
Multi-screen Modular
Single or multi-channel per screen
Individual, borderless modules
Reconfigurable
Use of internal mirrors to reduce depth (optional)
Light block (optional)
Example Products:
VisBox-HD13 (3D stereo)
VisBlock (small, stackable, and mono)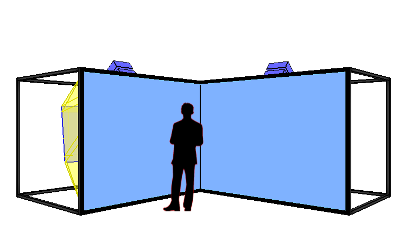 2 VisBox-HD13's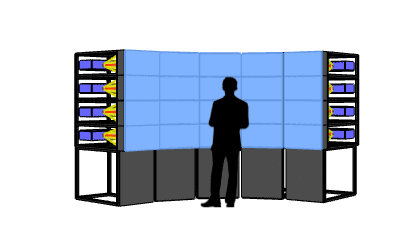 Stackable VisBlocks
Multi-screen Single Structure
Single or multi-channel per screen
Use of internal mirrors to reduce depth (optional)
Light block (optional)
Example Products:
VisCube (immersive 3D room/CAVE)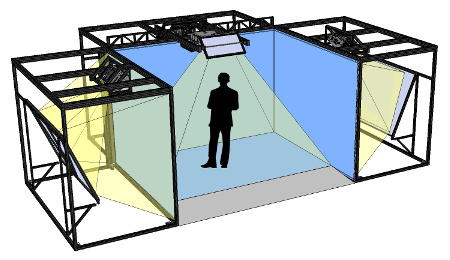 VisCube C4 CAVE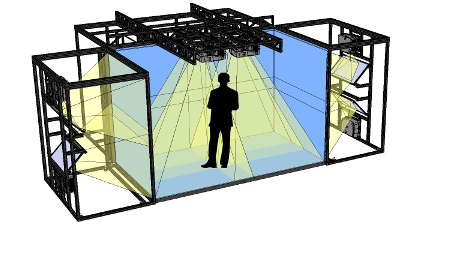 VisCube C4-T4 CAVE
Conference Rooms
Our systems can be integrated into conference rooms. One common example is an immersive 3D or high resolution VisWall system with the screen embedded in the wall and a projection room behind it.
Pictured to the right is the 3D VisWall-4K-SRX at Tufts University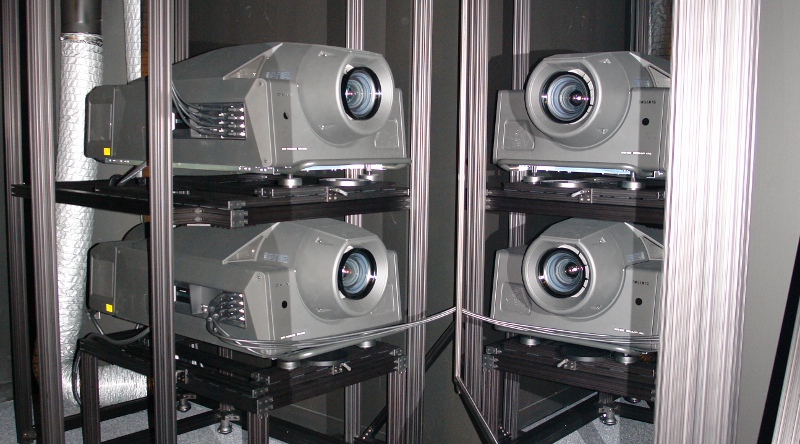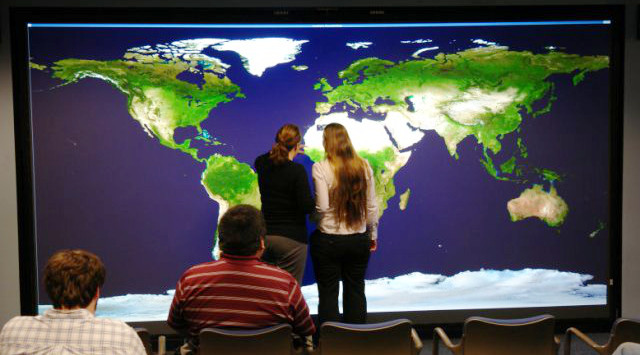 Tracking and VR
Aside from the choices in display configuration, there are also multiple options for input and tracking devices for VR applications. Want to learn more about these packages? Contact Us.
PC graphics hardware
Our systems are available as either standalone displays or as turn-key solutions with graphics hardware and pre-installed software. Whether it is a high-end graphics workstation for a VisBox or a large graphics cluster for a VisWall, our turn-key solutions leverage the performance of the newest in PC graphics hardware.
Want to learn more? Contact Us.